EDIT MAIN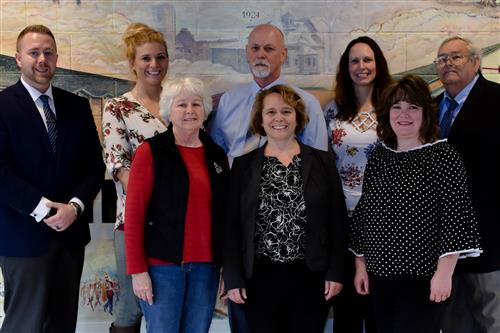 Back Row (left to right): Benjamin Overgaard, Stephanie Knoblock, Jeff McCubbin, Kimberly Hubbard, & Archie Silkworth.
From Row (left to right): Carolyn Martin, Wendy Somers (Superintendent), & Diana Walker.
Galesburg-Augusta Mission Statement
Galesburg-Augusta Community Schools will empower all students to be productive and responsible citizens.
Your School Board
The Board of Education is a seven member legislative body elected by residents of the school district. Galesburg-Augusta's School Board Members must develop policies and make tough decisions on complex educational and social issues which impact the entire community. The Board includes a president, vice-president, secretary, treasurer and three trustees. The officer positions are elected annually by the Board during their organizational meeting in January.
What are the duties of the Board?
The board of education is the policy making body of the school district. The policies which it establishes are executed by the administration and staff of the district. Policy decisions of the board are duplicated in the Board Policy Book.
The Superintendent
The Superintendent of Schools is the chief executive officer of the district, but does not vote. It is the Superintendent's responsibility to advise board members on all matters, to execute policies and decisions made by the board, and to operate the district so that all students receive the best education possible.
Board Meetings
Regular meetings are held on the third Monday of each month in the High School Media Center (1076 N. 37th Street, Galesburg, MI 49053) and Committee of the Whole meetings are held on the first Monday of each month in the Administrative Conference Room at Central Office (1076 N. 37th Street, Galesburg, MI 49053) Board meetings regularly begin at 6:30 PM unless otherwise announced. Board meetings are open to the public and copies of the agenda are available at the door.
Board of Education Members
Jeff McCubbin
President
Term Expires: December 31, 2022
Email

Diana Walker
Vice President
Term Expires: December 31, 2022
Email

Benjamin Overgaard
Secretary
Term Expires: December 31, 2024
Email

Kim Hubbard
Treasurer
Term Expires: December 31, 2022
Email

Abby Calala
Board Trustee
Term Expires: December 31, 2024
Email

Krista Simmons
Board Trustee
Term Expires: December 31, 2024
Email

Jessica Eberstein
Board Trustee
Term Expires: December 31, 2024
Email