PSAT/SAT Testing Update We are running a little behind schedule today. Most students will be finished around 12:45. Thank you for your patience!

No Zoom Calls Today (10/14/2020) Due to PSAT/SAT testing for our 10th-12th grade students, there will be no zoom calls today.

Parent-Teacher Conferences are this week. They are on Thursday from 1-6 pm and Friday 9-10 am! Please use this link below to schedule an appointment for a zoom conference with your student's teachers! If you do not have a Gmail account you may have to use your student's garams account to make the appointment.
https://docs.google.com/.../198Z-PHTezAN_C9ohPR.../edit
...

Covid-19 Update 10/7/20 Today, the GACS District learned of a HS student who has tested positive for COVID-19. The student is in isolation, & their close contacts have been identified, notified, and are in quarantine. The MS & HS remain open. We believe we have isolated all individuals & the building is safe for continued learning. The Primary School (including all programming, the enhancement center & daycare) will reopen on Monday, October 12, 2020. Please find the full statement below from Galesburg-Augusta Community School District and Kalamazoo County Health & Community Services Department regarding the recent COIVD-19 outbreak:
https://5il.co/lvkv

*** Covid-19 Update *** ~ MS & HS will reopen on Monday, October 5, 2020 ~ All extracurricular activities (including practices, games, and performances) will be postponed this week and will resume on Monday, October 5, 2020 ~ Primary School will reopen on Monday, October 12, 2020 ~ This includes all programming, the enhancement center, and daycare The health and wellbeing of our staff, students, and their families are of the greatest importance. We thank you for your patience and understanding as we navigate these challenging times. Please click the link below to read the full statement from GACS District and Kalamazoo County Health & Community Services Department regarding the recent COVID-19 outbreak:
https://5il.co/lol0

G-A Community School District and the Kalamazoo County Health & Community Service Department (KCHCS) statement regarding the recent COIVD-19 outbreak: Out of an abundance of caution, GACS District has decided to close all school buildings due to individuals testing positive for COVID-19 within the Early Childhood Special Education classroom (ECSE). At this time, there are three positive cases associated with this outbreak. The KCHCS uses the CDC outbreak definition, which is when two or more cases are epidemiologically linked. Per the CDC guidelines, individuals who have tested positive have been isolated, and individuals who have been identified as a close contact have been notified and quarantined. To date, there is no known exposure outside of the ECSE classroom. KCHCS is working closely with GACS on all public health recommendations for the school district, ECSE Center, and those identified as affected individuals. GACS District is tentatively scheduled to reopen on Thursday, October 1, 2020. Further communication will be sent confirming this reopen date.
Fall Testing 2020 We will be bussing students to campus for testing this fall. ALL students are expected to participate in the testing cycle based on their assigned date by grade. Wednesday, October 14: SAT for 12th graders PSAT/NMSQT for 11th and 10th graders Wednesday, October 21 PSAT for 8th and 9th graders Students will be picked up at their usual bus stops and times. A free breakfast will be available. Students will be transported home at the end of the test, approximately 12:00. If you have any questions please contact the main office. ~Mrs. Robinson

This weekend you received an email regarding one of our G-A family members who has tested positive for Covid -19. Those individuals who were considered a close contact were already advised to quarantine. As the weekend has progressed, we want to be proactive with the health department and further investigate the information we have received. Therefore on Monday, September 28th, 2020 all district programs including preschool, daycare, the enhancement center and K-12 buildings will be closed for in person instruction. Teachers in K-12 will be providing online learning opportunities for their students. Please follow your at home learning schedule. For further details, access your teachers Seesaw or Google Classroom. Please know that the health and safety of our staff and students is of utmost importance.
Please help the Galesburg-Augusta Athletic Department win $1000 from Win 95 and Johnny's Market. Simply text RAMS to 80373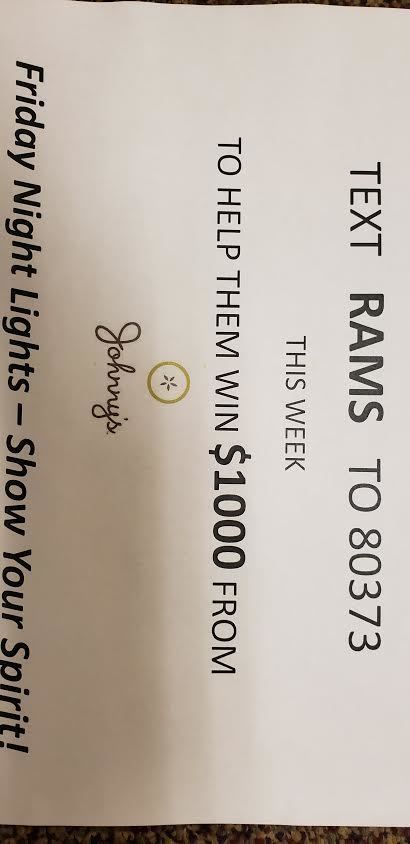 *** Free Meal Delivery & Pick Up TOMORROW 9/23 *** On Wednesdays, we will be delivering 5 days worth of meals. ~ The buses will leave the high school at 10 AM. ~ They will run their normal PM bus routes delivering meals. Please keep an eye out for your bus! ~ If your child is a virtual student or does not have a bus stop, you may pick up your meals at the PS or the MS. If you would like to be added to a bus stop or have questions about your closest stop, please contact the bus garage at 269-484-2015 or
melissa.daniels2@garams.org
. Meals will also be available for pick up at the Primary School & Middle School on Wednesdays 10:30 - 11:30 AM.
The JV Volleyball match at Hackett scheduled for Tues. Sept. 29th has been canceled. The majority of the Hackett JV team will be attending another school event on that night. The Varsity game is still on as scheduled. However, the match will now start at 5:30 p.m.
The JV football game at Delton this Thursday (Sept. 24th) will now start at 5 p.m. This is a mandate from the Barry County Health Department in response to EEE.
Please note the following schedule change for HS Volleyball: The JV and Varsity teams will play at Coloma H.S. on Thurs. Sept. 24th. The JV match will start at 5:30 p.m.

Attention Parents! Bus passes will not be used this year. Students are NOT permitted to ride the bus to another students house. You must make arrangements outside of school.
We will now be providing two way busing for all away school sponsored athletic events.

Our students have done an amazing job adjusting to the new protocols! You should be proud! Here is the bell schedule for your student next week! Please remember, your student should be logging into their teachers' Google Class for assignments, zoom invitations, etc. Your student is expected to be in attendance at the beginning of each class period for the live instruction and interaction with his/her teacher. Stay healthy and happy friends! ~Mrs. Robinson Full Day 1st: 7:30-8:30 2nd: 8:34-9:35 3rd: 9:39-10:40 Lunch A : 10:44-11:14 4th Hour A: 11:18-12:19 4th Hour B: 10:44-11:45 Lunch B: 11:45-12:19 5th: 12:23-1:24 6th: 1:28-2:33